America is about to be swept up in a Silver Tsunami, and the forecast indicates an approaching storm that will linger for decades.
The Silver Tsunami describes the disproportionate growth of the 65+ population together with the relative shrinking of younger generations.
Our population of approximately 332 million people is projected to grow about 18% by 2060. The working age population, 18-64, will grow, but by a more modest 13%. Children, those under 18, will approximately grow by an even smaller 8%. By contrast, the 65+ population is projected to expand by a whopping 70%!*
This tsunami brings many benefits, but also challenges, not just for those who will eventually need care and for those who will provide it. The benefits will see young and old, from very different generations, breaking bread and sharing their oral history with their grandchildren and great-grandchildren.
The challenges will be felt by everyone, but particularly by state and federal lawmakers already struggling to support the aging population. Clients of all ages will need to build retirement portfolios and income plans that can perform and be relied on for years, if not decades, while also being encouraged to prepare for their eventual care.
For those who prepare for the coming storm, they will face the future unburdened by worries about their income or portfolio performance – or whether they will have sufficient resources to provide for their care in a setting they choose.
As our population ages, an unprecedented wave of longevity could present an urgent need for clients to fill the gaps. Annuities, life insurance, and hybrid options have features and benefits that can address clients' unique needs.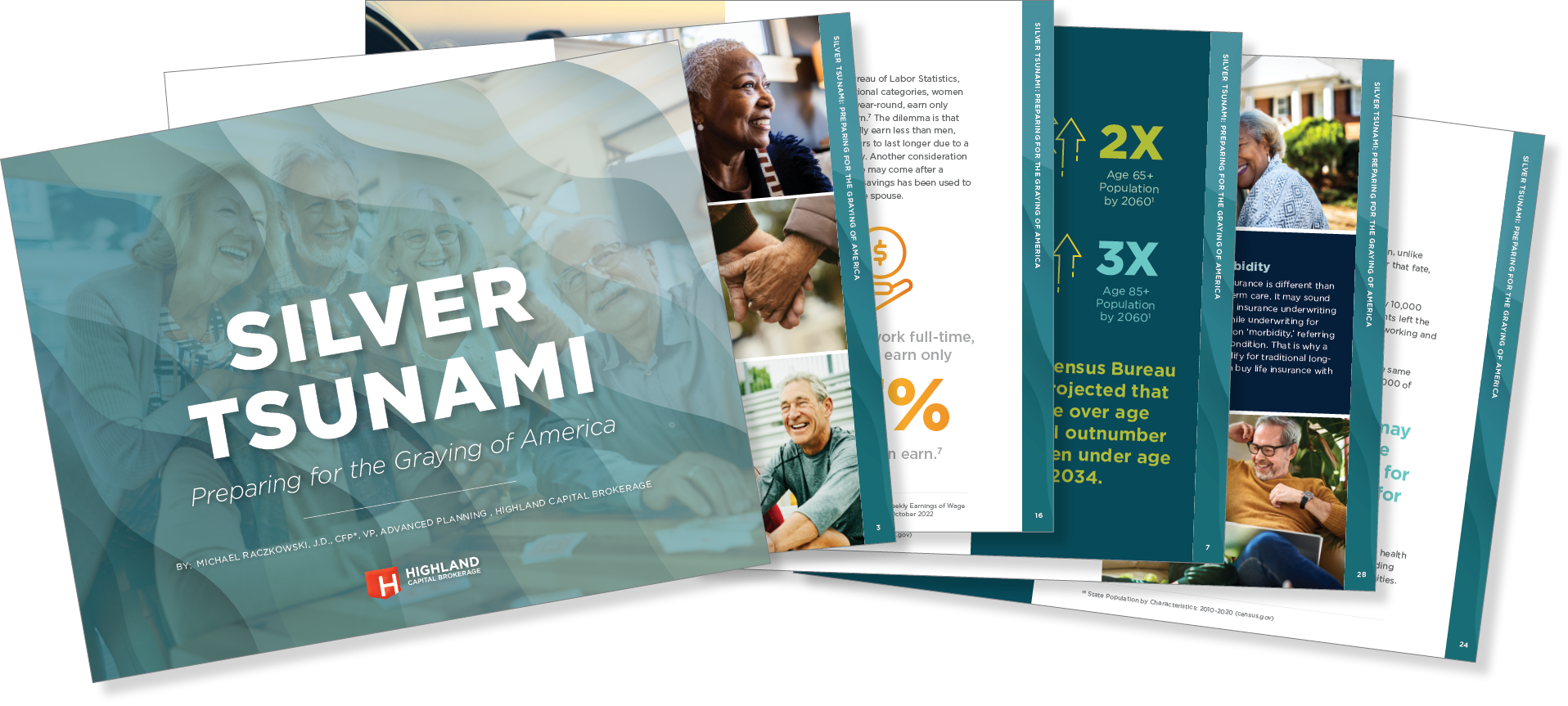 Our Silver Tsunami ebook outlines a range of solutions for clients, no matter their net worth or circumstances. Whether their goals include legacy planning, securing guaranteed income during their lifetime, or leveraging some existing assets to provide for their eventual care needs, Highland has the resources to help your clients find shelter from the storm.
The ebook, by Michael Raczkowski, J.D., CFP®, Vice President, Advanced Planning at Highland, presents both the current landscape and expected future conditions.
*Demographic Turning Points for the United Sates: Population Projections for 2020 to 2060 (census.gov)