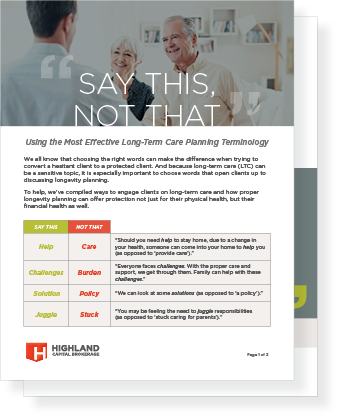 Say This, Not That
Using the Most Effective Longevity Planning Terminology
We all know that choosing the right words can make the difference when trying to convert a hesitant client to a protected client. And because long-term care (LTC) can be a sensitive topic, it is especially important to choose words that open clients up to discussing longevity planning.
To help, we've compiled ways to engage clients on long-term care and how proper longevity planning can offer protection not just for their physical health, but their financial health as well.
Complete the form below to download the flyer now.
This page is intended for agents and representatives only, and not to inform members of the general public. The information provided in the agents' testimonials above may not be indicative of the experience of any end clients. The experiences and opinions are those of the financial professionals only.
By submitting this form, I certify that I am authorized to access the pages and any materials or documents provided by therein.