Why would you recommend that clients with millions of dollars in invested assets spend money on a long-term care plan? Because it helps remove the risk from their portfolio.
With affluent clients, it's not whether they can afford to pay for potential long-term care needs. But is it an expense they want to incur at an unpredictable time in their lives?
Long-term care concerns are similar no matter your clients' net worth.
They may equate long-term care with a stay in nursing homes. In fact, 76 percent of long-term care insurance claims begin with home care or in assisted living facilities.¹
Another factor to consider is that long-term care is just that – long-term. About one-third (34 percent) of LTC insurance claims last at least two years and 13 percent last more than five.²
Active baby boomers may expect to remain healthy throughout retirement, but Americans turning 65 face a nearly 70-percent chance of needing long-term care services in their lifetime.²
Sources: 1American Association for Long-Term Care Insurance; 2U.S. Health and Human Services Department
Self-Insuring Is Self-Funding
High net worth clients don't have the affordability objection. But their mindset may be "If the time comes, we'll pay for it ourselves." That perspective could have an adverse effect on their portfolios if and when they do need long-term care.
Ask your clients if they believe another downturn in the market could happen. There's also the likelihood that they could experience an unexpected health event. There's simply no guarantee that their need for care would come at a time that's either convenient to them or to the performance of their portfolio.
It may make sense to concentrate on insuring affluent clients' investments with product solutions that can minimize their risk of absorbing the entire cost of care.
Get Clients Thinking Early
Give your clients time to process their potential for needing care and ways to solve for that possibility. Long-term care discussions should be part of the retirement, estate, and charitable planning process.
No matter their income bracket, clients want you to address tough topics like this. Nine out of ten consumers surveyed agree their financial advisors should discuss LTC plans with them (VerstaResearch 2017)
Count on Us
As their trusted advisor you can help clients see the benefits of addressing the potential need long before it is needed. Count on Highland Capital Brokerage to provide the support you need to solve the unique long-term care needs of your high net worth clients.
We have the resources to help get you started!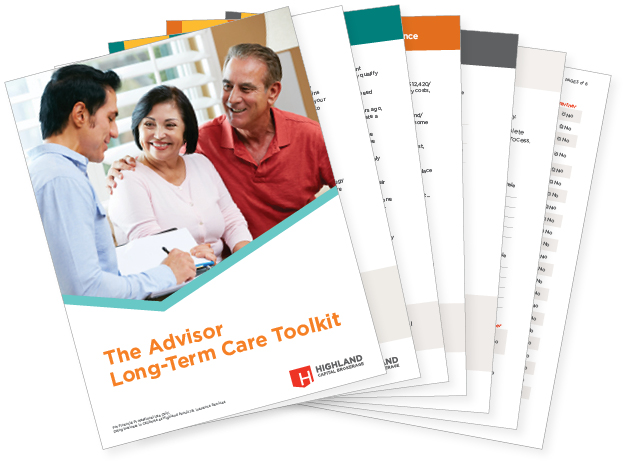 High Net Worth Clients: Addressing the Self-Insure Objection to Long-Term Care covers several strategies to recommend as well as a discussion on care coordination similar to other concierge services they might utilize.
Longevity Planning Solutions – What's the Best Fit? explains the pros and cons of five LTC options to help you prepare for client conversations.
Advisor Long-Term Care Toolkit contains exclusive, advisor-only resources to help you navigate the LTC conversation with your clients. It also provides valuable, generic, client-facing materials that you can use to start prospecting today. What are you waiting for? It's time to talk to your clients about LTC.
Contact our Highland experts with your LTC questions and cases.
Nancy Simm, CLTC, LTCP, CSA


LTC & Longevity Planning Director
nsimm@highland.com


860.677.6777

HCB National Sales Desk:




844.422.3375




Option #3