The recipe for a typical long-term care conversation calls for:
Equal parts rising health care costs and longer life expectancies
1 preconceived notion about nursing homes
1 heaping cup of confidence that a health crisis won't happen
Pinch of fear that it will
Blend with emotional stories of caring for a parent or loved one
For best results, add the expertise of Nancy Simm, Director of LTC & Longevity Planning at Highland Capital Brokerage. She can be your secret ingredient to offset client hesitation when discussing this complex topic.
30 Years Working for You
Nancy suggests adding long-term care planning to your agenda with clients at their annual review or financial analysis. She knows they will be relieved that you have addressed the topic. When clients are open to it, arrange a conference call and introduce Nancy as a member of your team.
Then, you don't need to be an expert on long-term care. She can be one for you. Take advantage of her 30 years of industry experience when helping clients make plans to protect themselves financially from potential long-term care needs.
Advisors Rely on Nancy's Expertise
It's one thing for us to tell you how valuable Nancy can be to your LTC business. But we'd rather share directly from advisors how she helps with their LTC cases.
"I have never met anyone with the grasp of subject, empathy and people skills that Nancy brings to our clients day in and day out. She knows long-term care insurance, full stop. She LISTENS to our clients and she is never pushy or 'salesy.' She conducts field underwriting and shepherds all of our applications through the underwriting maze with due care."
Brad Sylvester Principal, Private Client Life

"Nancy has a thorough knowledge of the myriad types of long-term care coverage and continuously stays up-to-date on the latest enhancements and laws. Nancy has presented often to our clients and their feedback is consistently positive as they are impressed with her clear communication style. If I didn't have a resource like Nancy Simm, I would write many fewer LTC cases."
Barbara H. Taylor Owner/Advisor, ClearGuidance Financial

"Nancy is very knowledgeable yet has the unique trait of being able to distill complicated information so that it is easily understood. Having a resource like Nancy Simm is invaluable to me and the team as we depend on her guidance and insights for LTC matters."
Terran R. Titus, CFP® Advisor, Commonwealth Financial Network
Rely on Nancy to consult with you on the best LTC solution for your clients. Ask her about:
The difference between Long-Term Care and Chronic Illness riders
State-specific tax incentives
Product tax advantages
Carrier- or product-specific features
Resources to Grow Your LTC Business
Meet Highland's LTC & Longevity Planning Expert to learn more about Nancy's role in your cases.
Download our new Advisor Long-term Care Toolkit for resources you can use to get the conversation started with your clients. It contains exclusive, advisor-only resources to help you navigate the LTC conversation with your clients. It also provides valuable, generic-branded, client-facing materials that you can use to start prospecting today. What are you waiting for? It's time to talk to your clients about LTC.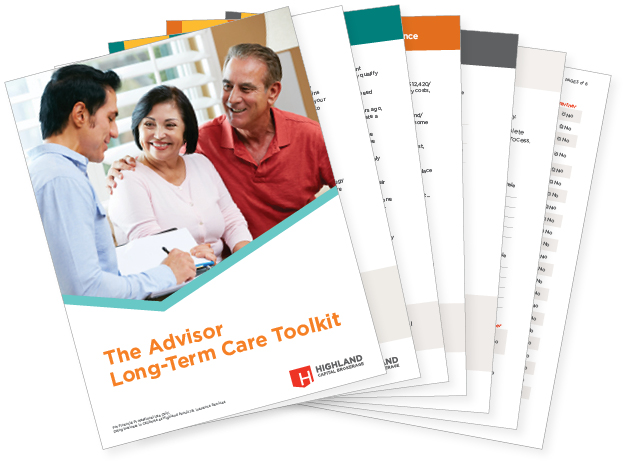 Contact our Highland experts with your LTC questions and cases.
Nancy Simm, CLTC, LTCP, CSA


LTC & Longevity Planning Director
nsimm@highland.com


860.677.6777

HCB National Sales Desk:




844.422.3375




Option #3