Are you a business owner or highly compensated employee? If so, your group disability coverage may be riskier than it looks and poorly suited to your needs.
Group Long Term Disability (GLTD) is a valuable employee benefit. It generally kicks in after 90 days to 180 days after a short-term disability and covers 60% of income. This would seem to be an adequate amount of protection, but it's not.
One reason: these policies typically feature a monthly benefit cap in the $5,000 to $10,000 range. This limit in effect punishes successful people, because coverage on a percentage basis decreases as earnings increase.
Wait...what?
How GLTD Plans Punish Success
Suppose you're an executive earning $350,000 a year and you have GLTD covering 60% of income, capped at $10,000 a month or $120,000 a year. In the event of extended illness or injury the benefit cap would limit your coverage to 34%, rather than 60% of income. Protection therefore is reduced for every dollar you earn over $200,000 a year ($200,000 x 60% = $120,000). [See chart 1.]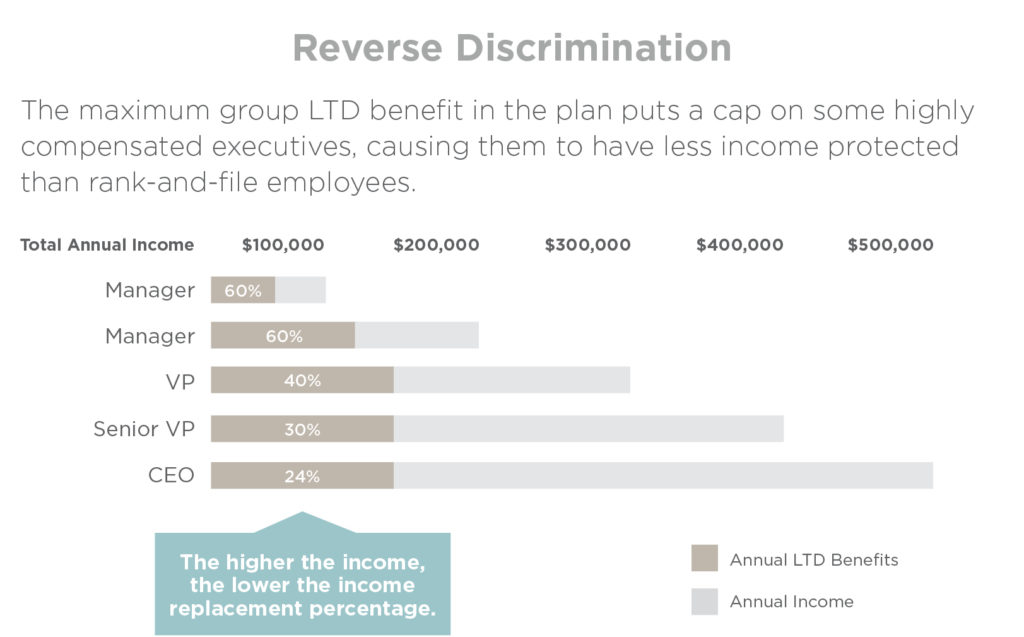 * Assuming LTD benefit = 60% of base salary to a maximum monthly benefit of $10,000 and a 30% tax bracket for federal, state and FICA. For illustrative purposes only
In addition, to control costs, GLTD plans limit the type of income eligible for monthly benefit replacement. Base salary typically is covered, but not bonuses, commissions, and incentive pay. K-1 earnings are also excluded, dramatically lowering the covered income of business owners. [See chart #2.]

What's more, should an injury occur, any GLTD payments received would be taxable to the insured at regular income tax rates.
From a practical standpoint, all of this means rank-and-file employees will tend to get more income protection on a percentage basis than top earners under these plans. For top earners, one car accident, ski trip, snorkeling adventure or trip and fall could destroy what took a lifetime to build.
While no one should be blindsided by this kind of risk, it happens each year to plenty of hardworking people too busy to read or make sense of the fine print. Fortunately, there are policies that stack or wraparound a standard GLTD plan.
Plugging the GLTD Protection Holes
Customized disability plans for executives.While GLTD plans are offered to all eligible employees, highly compensated individuals can be "carved out" for additional coverage. A properly structured supplemental plan can significantly increase disability benefits beyond traditional group disability policies. The plan is usually structured to cover total compensation, including bonus and retirement plan contributions. By "carving out" highly compensated employees, businesses often can decrease the maximum benefit cap and lower the cost of the GLTD plan.
Key-person replacement disability. Key person replacement insurance provides benefits to the business in the event an insured key employee becomes totally disabled. This coverage offsets the costs of recruitment, temporary staffing, or revenue gap. This coverage could also be used to buy out a totally disabled business owner.
Individual disability coverage. Individual coverage is available for executives, business owners, and other highly compensated employees as separate stand-alone policies.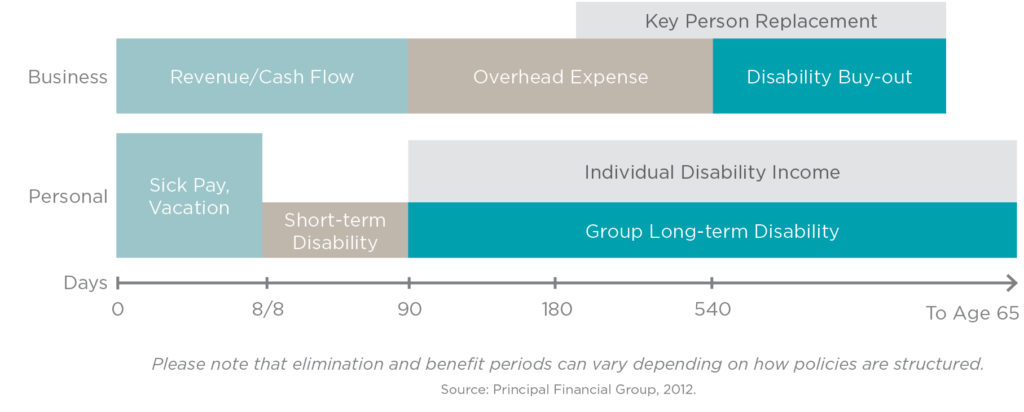 Why Own an Individual Policy?
Most policies feature various limitations, exclusions, and deductions, so what you see isn't what you get. Some payments are capped at 12 or 24 months over the life of the insured, and may exclude mental health, substance abuse, environmental allergies, chronic fatigue, musculoskeletal and connective tissue disorders, and self-reported conditions. Reductions and offsets include sick pay, annual or personal leave pay, severance pay or other salary continuation, unemployment compensation, retirement plan disability benefits, and no-fault auto settlements.
GLTD plans also use a split definition of disability, relying on an Own Occupation definition of disability for the first 24 or 36 months followed by a more restrictive Any Occupation definition. Any Occupation means being unable to perform the substantial and material duties of any occupation. So goodbye C-suite, hello Walmart "Meet & Greet."
GLTD often lacks portability, too. Coverage typically stops immediately upon leaving the employer. All premiums paid are lost and coverage disappears, even as a new employer may require a waiting period before providing coverage.
Staying off the Road to Bankruptcy
Disability is something most people assume simply won't happen to them, which leaves them open to risk. The Council for Disability Awareness reports more than 25 percent of today's 20-year-olds will become disabled before they retire. The average man or woman has a 38 percent chance of being disabled for five years or more.
No one should have to deal with financial worries in the middle of dealing with a disability, but all too often that is exactly what happens. According to a recent study1, medical problems contribute to two-thirds of all bankruptcies.Most medical debtors were well educated, owned homes, and had middle-class occupations. Three quarters had health insurance.
While GLTD plans represent a cost-effective way to provide basic income protection benefits for the largest number of employees, these plans should be treated as bare bones protection by business owners and highly compensated employees. These policies must be supplemented by additional coverage because benefit caps, income restrictions, exclusions, reductions and other offsets limit their effectiveness.
In this case, a financial advisor can be invaluable when it comes to reviewing available supplemental coverage, then choosing a policy that fits each situation and budget.